Bird Walks
Parking Lot Birding at Mitchell Lake Audubon Center
Join author Jennifer L Bristol to talk birds!
Saturday, September 25, 2021
6:00pm - 7:30pm Central San Antonio, Texas
Location Details
Mitchell Lake Audubon Center
10750 Pleasanton Road, San Antonio, 78221, TX
Event will take place at Education Pavilion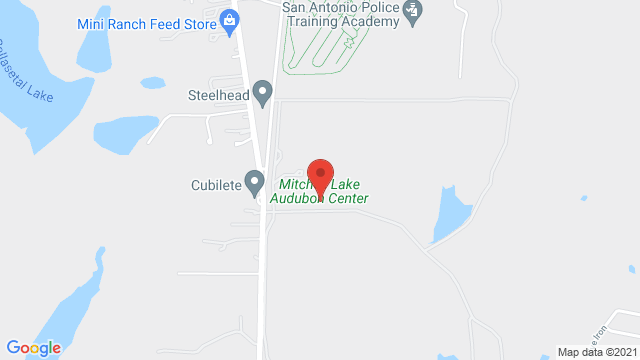 Saturday, September 25, 6 – 7:30 pm
Guest Presenter: Jennifer L. Bristol
In Person - Outdoor | Masks Required | FREE
Join author, Jennifer L. Bristol for a fun evening of birding and discussing her new book, Parking Lot Birding: A Fun Guide to Discovering Birds in Texas. The fall migration in Texas is as exciting as the spring migration and Mitchell Lake Audubon Center is the perfect place to observe and experience this annual occurrence. Jennifer will share tales from her book and lead a bird walk through the nature center campus and of course, the parking lots. She will sign books after the program. Books available for purchase at Nature Gift Shop.
About the Presenter:
Jennifer L. Bristol is the author of Parking Lot Birding: A Fun Guide to Discovering Birds in Texas and has contributed articles about nature exploration to Texas Parks and Wildlife Magazine and the Children & Nature Network. Her current writing projects with Texas A&M University Press include A Texas Guide to Cemetery Birding, and The Wild Women of Texas: The Story of Conservation in the Lone Star State.
She is the former director of the Texas Children in Nature (TCiN) network at Texas Parks and Wildlife where she developed a grassroots movement around the need to better connect children and families with nature for a healthier and happier future. For her efforts with TCiN she received the Westcave Outdoor Discovery Center, Enduring Dedication Award and the Phil Hardburger Park Conservancy, Nature Hero Award. In 2018 and 2019 she received the Greater Texas Birding Classic, Most Valuable Birder Award.
She has been a park ranger, business owner, marketing executive, and scenic painter in the Texas film industry. Having a deep sense of service, she servers on the Environmental Commission and is the former vice chair for the Downtown Commission for the City of Austin. Additionally, she has served on over ten different boards and advisory teams with a focus on conservation and youth development. Bristol resides in Austin with her husband, four charismatic dogs and two horses.